It's late Friday night in the Forbidden Fruit tent at Wonderfruit 2019, and Go Grrrls are casting a spell with their "God Save the Queer" takeover. The DJ collective's three founders—Cleo P, Dookie and Mae Happyair—have taken it in turns whipping the crowd into a frenzy with an all-too-seamless blend of '00s hip-hop, glam rock and dark techno.
Hips are gyrating. Lips are syncing. Shirts are coming off. And things are just heating up. Before the night's through, there'll be a sprightly song and dance by Zymone, Thailand's first transgender rapper, and a gravity-defying performance by Amazon Sun, a heralded Thai voguer. Then the tent will transform into one heaving runway as revellers take it in turns showing off their own moves.
The three friends behind Go Grrrls are no strangers to Bangkok's nightlife scene. Together, they've put on nearly 100 "queer-stravaganzas" since launching in 2013, to say nothing of their individual projects which stretch back to the dawn of the '10s. But this appearance at Wonderfruit—Thailand's four-day celebration of creativity and sustainability—represents a new kind of high.
We were lucky to welcome DJs Cleo P, Dookie and Mae Happyair to Siam@Siam Design Hotel Pattaya just a couple of days after the party to chat about their role in uniting Thailand's LGBTQ+ party scene and their musical inspirations, as well as find out which songs are guaranteed crowd-pleasers. Watch the video for a taste of the action or scroll on for the extended interview.
How, when and why did Go Grrrls start?
Dookie: We started in 2013. We wanted to start a night for girl DJs. Somewhere we could gather all our friends: both LGBTQ+ and straight. Before that Bangkok didn't really have a party where everyone could go and party together.
Mae: At first, there were many separate parties: gay or lesbian only. For me, it felt like the environment was not right. Even when I went to just a girls' party, I needed something more. Like, I wanted to bring my gay friends, but they wouldn't allow men. I just felt like, why do we need to separate? Why can't we be together?
Forbidden Fruit, Wonderfruit
Your parties often follow themes. What inspires those?
Dookie: I grew up with the Riot Girl movement of girl-fronted rock bands, so I take a lot of inspiration from that. We share a lot of inspirations and passions, whether it's the feminist movement or female underground artists—Mae's a real expert on that too. So every time we try to find a theme to represent the concept. Sometimes we invite guests like drag performers, female hip-hop artists, voguers… Basically we try to invite all the underground female, queer artists to join us.
This might be a tough one so early in the day. How would you describe a Go Grrrls party in three words?
Cleo P: Three words, um… Al-ways fun. Is that three words?
Mae: For me, strong, brave, different.
Dookie: For me, it's freedom, expression and extravagance.
Cleo P: OK, for me… drink, dance and drunk! DDD.
Dookie at Wodnerfruit 2019
How has your community grown?
Dookie: We started with maybe 30 people at our first party. At the beginning it was just friends, but then friends told friends. Now we have a lot of people who don't even define themselves as queer or who are gender-fluid. The more we organise our nights, the more different groups come to our parties. There's more freedom for them to express who they are. Before that, the whole gay and lesbian party scenes were so completely separate. So if I went to a party with my gay friends, they would look at a girl and be like "hmmm." And if a gay wanted to go to a lesbian party, they wouldn't allow boys. Even our straight friends would want to join too, but it'd be like "uh, no." I love to have everyone in to enjoy the same kind of music and be who you are.
It's obvious you all have very different music styles. How did each of you start DJing? How would you describe your taste in music?
Cleo P: I've been a DJ for 10 years. I started with hip-hop and electro. I wanted to DJ at Go Grrrls to represent females in hip-hop, because I have a lot of guy friends and when it comes to hip-hop, they only play like Biggie Smalls, Snoop Dogg, 50 Cent, all those. But they forgot about Beyonce, Rihanna, Ashanti, all the girl power. So that's the kind of music I play.
Dookie: I started from rock music. My inspiration is from the Riot Girls, David Bowie or androgynous things that represent all genders in the world. I listen to all types of music, but specifically for Go Grrrls I play more electro-pop and disco.
Mae: I have two different sides, completely different. On one side it's pop and house music with girl vocals. On the other side is dark techno, industrial, dark disco. They have different ways of telling the story, like with vocals, you hear and you understand the meaning. But with techno, you don't need to speak, the melody can express a story or feeling. I love both, but now I'm really into dark disco.
Dookie: When the three of us are playing the one night together, people know what kind of music to expect. But we try to get a smooth transition. This is our character, spread across all different types of music.
Cleo P: Like if I'm playing before Mae, I'm still going to play hip-hop, but before she comes on I'll play some hip-hop mixed with house so it goes all together, smooth all night. We don't want to be like, cut the music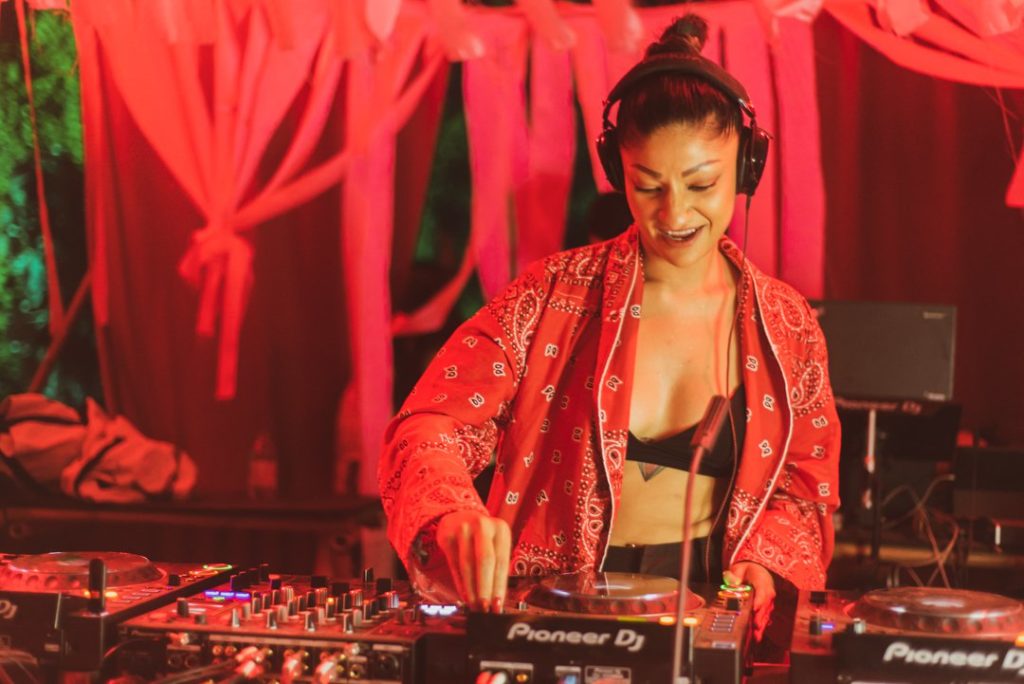 What song(s) are guaranteed to pack the dance floor?
Dookie: Robyn – "Dancing on My Own" is like the anthem of everyone who is on the dance floor. I like to play songs that bring emotion to the crowd. "Dancing on My Own" is just a really good song. The lyrics and everything are perfect for the dance floor. And then I might switch to Whitney Houston – "I Want to Dance with Somebody." When people hear these they bring good energy, and I feel alive. I feel like I can go on and on and on.
Cleo P: TLC – "No Scrubs" and Khia – "My Neck, My Back." I also love Rihanna. I love all the strong-attitude women; I don't like cute-cute. My songs tend to be from the '90s, '00s. I want to get people up dancing. But I don't play the most guaranteed hits; maybe it's the second hit that people have forgotten about. So when they hear it, they're like, "oh my god, this is so good." So everyone might expect "We Found Love." But I'll play "Only Girl in the World"—the hit they don't hear as much.
Mae: For me, it's artists like Louisahhh, Paula Temple, Helena Hauff—I love the way these women make music, I love the story, the energy behind the sounds. When I play them, I feel like I have their energy. This is what I want to share with people.
Your Wonderfruit party was way more than just a DJ set—beyond music, what are some of the ways you encourage crowd participation?
Dookie: As a party organiser, creativity always comes first for me. We always are looking for things to add on, apart from the DJs, that can represent our queer subculture. We're always looking for people who are willing to come and join. Let's say, the voguer, Sun, who joined us at Wonderfruit. He came to one of our parties and we talked and thought we should do something together. Also, Zymone, who did the drag performance, was very happy to join. Actually, before that, Zymone, had never come to our party; she usually plays gay, gay, gay clubs. I think she really discovered something new.
Mae: Now I'm networking across Asia with queer and female musicians. With things like Wonderfruit, we have a chance to meet new artists and discuss how things are in different countries.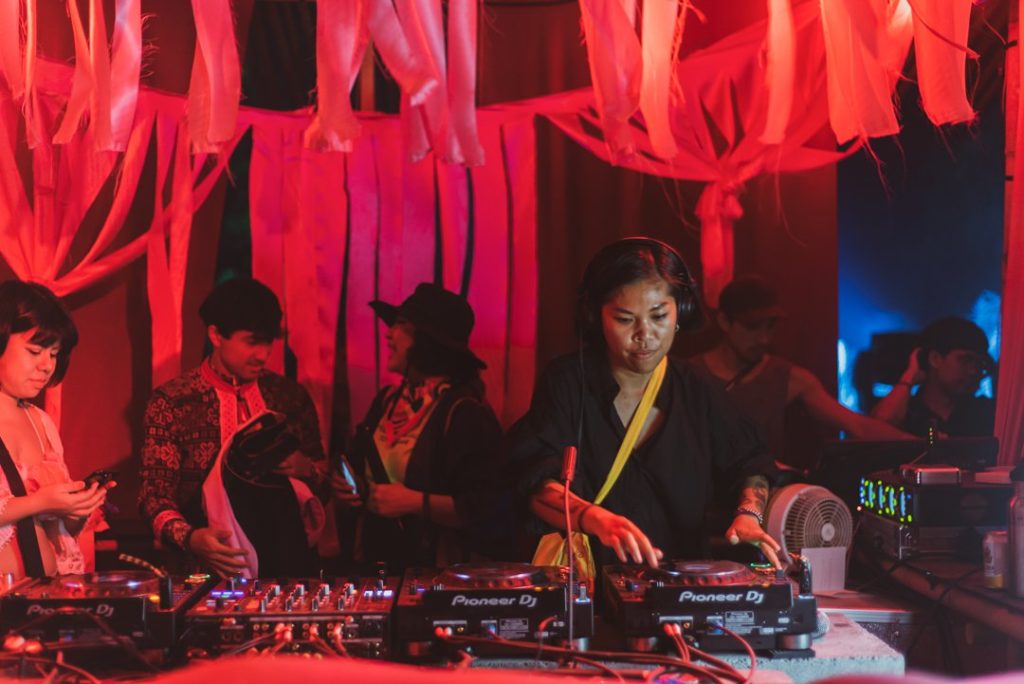 "No country is the same as Thailand in Asia. I can walk around and hold my girlfriend's hand and just be myself. I don't need to hide."
Compared to other countries in the region, how do you think Bangkok's party scene stacks up?
Cleo P: I think in terms of LGBT!+++ Thailand is the most open country. Compared to like Malaysia or Taipei, especially. Actually, queer people from those countries come to our parties a lot. They get to feel more freedom, here.
Mae: It's not just parties. When I travel, it feels like no country is the same as Thailand in Asia. I can walk around and hold my girlfriend's hand and just feel myself. I don't need to hide.
Dookie: For me, Thailand has a lot of potential. Right now we might just be one little LGBT party, but if we all come together, I think we can create something really big.
What are the biggest challenges about putting on parties in Bangkok?
Dookie: We've all been doing parties for many, many years. We have experience and know how to build something up with the right business model. I think we're growing in a way where we can do what we want, say what we want, be who we are. We never compare ourselves to anyone. We do the thing we love and we're building a community. We feel like if there's something we want to do, we can just do it.
What's next for you guys? Any other projects?
Cleo P: We are planning to expand Go Grrrls overseas, to make more friends at festivals. It's fun to have a small tent at a festival to play and try to get to the next level.
Dookie: We want to do something in other countries who might have this kind of scene too. From being at Wonderfruit we met a lot of interesting people from around Asia who are doing something similar and we felt a connection. So we want to do something with them in the future.
Mae: I want to focus on taking us to festivals now, overseas. I also want to do DJ workshops for women now that this project is expanding. If you want to be a DJ, or a dancer, or anything, I want to have a little school to support them. We have the stage for you.