One massive perk of staying at Siam@Siam Bangkok is that you have the city's absolute top art centre practically on your doorstep. A visit to Bangkok Art and Culture Centre (BACC) in Siam means submerging yourself in large-scale installations, shopping for artsy trinkets and even indulging in edible art. Here's the ultimate to-do list for visiting BACC.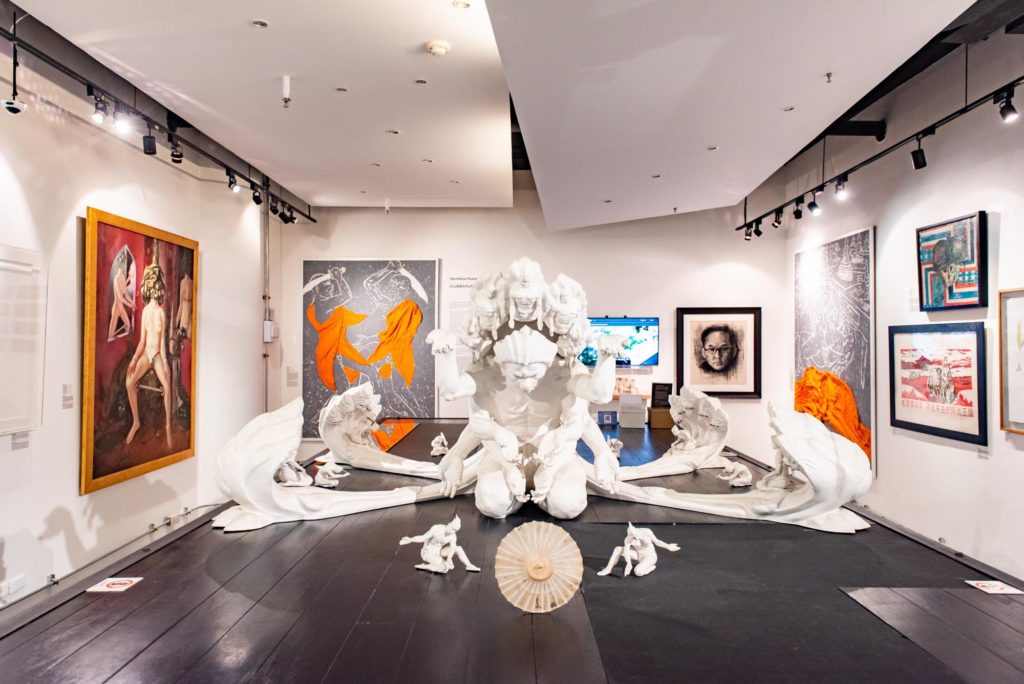 BACC's nine floors are a haven for art lovers, so firstly check the venue's website for an up-to-date calendar for what's on show. From multimedia exhibitions and talk panels to dance and opera performances, BACC hosts it all.
The art centre has also played a central role in the inaugural Bangkok Art Biennale, which kicked off for the first time in late 2018 and will return in 2020.
Once you're done checking out the current installations, be sure to check the various gift shops for artsy knick knacks to take home.
Cool Down in Style
If the Bangkok heat gets too much, take shelter at Icedea (4/F), probably the city's most out-there ice creamery. Here, the menu showcases edible art. That could mean sweet brownie ice cream disguised as tonkatsu (deep-fried pork cutlet) served with fresh fruit on the side or the bizarre "Grandma's Lemonade," which comes with denture-shaped ice. Weird but wonderful.
Explore Hidden Gems
Before taking the spiral ramp (7-9/F) up to the main exhibition space, take time to explore some of BACC's other hidden highlights. Head to The Royal Photographic Society of Thailand on the 2/F for scenes of Bangkok life as captured through the lens of Thailand's master photographers or drop by Happening Shop, a select store on the 3/F for cool bits and pieces from rising young artists—everything from vinyl records and T-shirts to illustrated postcards and pocket books. Three doors down sits Hardcover The Art Book, the city's leading bookshop for art titles from international and domestic indie publishers.
Taste Thai Chocolate
Love chocolate? Try some of Thailand's very best here. Local chocolatier Paradai (3/F) is behind this singularly minded cafe devoted to single-origin Thai cacao. Bon bons are available in flavours that range from mint and mixed berry to double dark chocolate, while to drink we recommend the hot chocolate topped with a marshmallow.
Paradai's Thailand Nakhon Si Thammarat dark milk 58% bar, awarded with a bronze at the 2018 International Chocolate Awards, makes a great gift to take back home.
Paint the Town Red
Run by some of Bangkok's most renowned graffiti artists, BKK Graff on the 3/F is your one-stop-shop for all things street art. Pick up supplies, from spray cans to marker pens, or peruse the latest works in progress. The helpful staff are always on hand to pass on words of advice on painting responsibly.
Head Back Down to the Earth
Before stepping back into the scorching sun, prepare yourself with the refreshing kick of cold brew from Gallery Drip Coffee. The award-winning owners here, Piyachart Trithaworn and Natthiti Ampriwan, go by the nickname the "Drip Kings" due to their love of, and great expertise in, slow-bar coffee.
Be sure also to visit It's Going Green, an eco-friendly shop that sells everything from eco-friendly straws to breathable natural cotton clothing. Grab some organic rice face mask sheets to pamper your skin after a big day in the sun.
Bangkok Art and Culture Centre (BACC)
939 Rama 1 Rd.
BTS: National Stadium
Tel: +662-214-6630
Open Tue-Sun 10am-9pm