Pattaya abounds with good eats, but the recently opened Terminal21 mall takes diversity to the next level. Little over five minutes' walk from S@S Pattaya, this shopping haven is known for its quirky airport theme that promises stores and restaurants from all over the world. We've rounded up some of our favourite cuisines on offer, from Japanese to Lebanese, and, of course, a couple of Thai classics, so there should be no arguments between you and your crew.
AMERICAN: Arno's Butcher & Eatery
Started by a Frenchman in Bangkok, this ever-growing chain (now with 13+ branches) can lay claim to some of the tastiest comfort food in the land. A glass cooler shows off Arno's main claim to fame: 70-day-aged beef ribeye, sirloin, tenderloin and more, which you can buy to go or have prepped to your liking in-house (rare or medium-rare). The American-style burgers, too, feature juicy, real-deal patties, which you can customise with different cheeses and sauces. Beware: the curly fries are darn addictive!
2/F, Terminal21
Tel: +6633-252-453
Credit: Shakiriki Terminal21 Pattaya
This Osaka-hailing izakaya (Japanese tavern) chain is one of the very first names we think of when pondering a casual night out with friends. Order some ice-cold beer or whisky highballs to go with a wide range of Japanese pub grub, all served up in a kitschy, comforting setting. Sushi and sashimi, DIY takoyaki (flour and octopus balls), fried chicken—they've got it all. Kampai!
2/F, Terminal21
Tel: +663-303-6369
Credit: iO Osteria Pattaya
There's nothing like Italian home cooking to soothe the soul. The brainchild of a Sicilian-born chef, this restaurant already boasted highly-praised branches in Singapore and Bangkok before arriving here in Pattaya with its part-pizzeria, part-deli, part-bakery concept. The menu cherry-picks classic dishes from 20 different regions of Italy: dig into the oh-so-rich orecchiette pasta in saffron sauce and pork sausage but save room for the toasty schiacciata stuffed with creamy truffle oil. The Roman-style pizza, served in squares, could well be Pattaya's finest. Whatever you do, order up some wine by the carafe for company.
2/F, Terminal21
Tel: +663-325-2440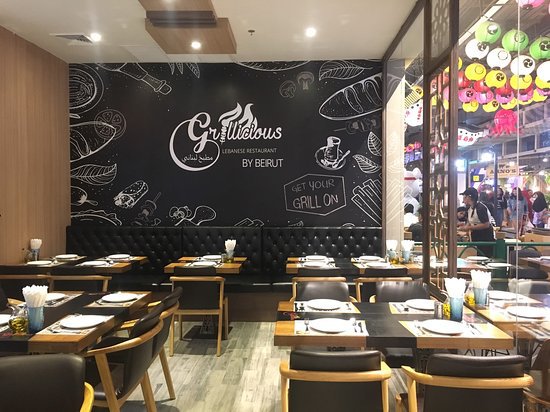 LEBANESE: Grillicious by Beirut
A spin-off of a longstanding Lebanese institution in Bangkok, Grillicious lives up to its name with an emphasis on juicy grilled meats. Order up a skewer platter of beef, chicken and lamb, a bowl of creamy hummus and some pillowy pita bread to mop up all that flavour. More into seafood? The grilled shrimp option promises delightful charred notes and plump meat.
2/F, Terminal21
Tel: +663-138-072
Pattaya has no shortage of Indian food, but here's a name you can trust. Beside a decent selection of vegetarian options, Chutney is known for its succulent chicken kababs. For full flavour explosion, dig some garlic naan into a steaming pot of chicken tikka masala whose tomato gravy bursts with freshness. We also recommend the whole locally-caught fish baked served straight from the tandoor with zesty laccha onion and lime salad.
2/F, Terminal21
Tel: +6689-772-0211, +663-325-2423
Think Korean barbecue, think Firepork. As you might guess, the protein of choice here is pork, but that's hardly the only highlight at this industrial chic spot. Gather your gang and go all in with one of the meat sets which you can cook to perfection at your own station. Load up on the freshly made kimchi, but be sure to save room for other house specialties like deep-fried king prawns and soft and fluffy Korean-style omelette. Get your daily dose of greens at the self-serve salad bar. The breezy outdoor terrace is prime for people-watching with a cold beer or colourful, sochu-spiked cocktail.
3/F, Terminal21
Tel: +6633-252-503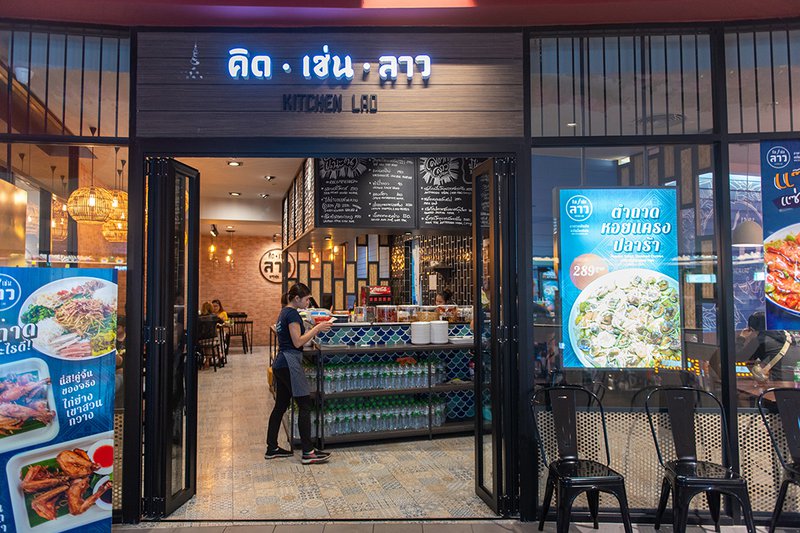 For a break from regular Thai, consider this tastefully turned out restaurant devoted to food from neighbouring Laos. Laotian food shares similarities with Isaan (Northeastern Thai) food, but tends to be saltier and altogether milder, sharing influences from Vietnam. Here, you'll find an array of comforting classics, from grilled meats like moo yang (pork) to papaya salad, alongside more adventurous fare such as vegetable soup with ant eggs. The sugarcane shrimps are another enduring favourite.
3/F, Terminal21
Tel: +6633-252-527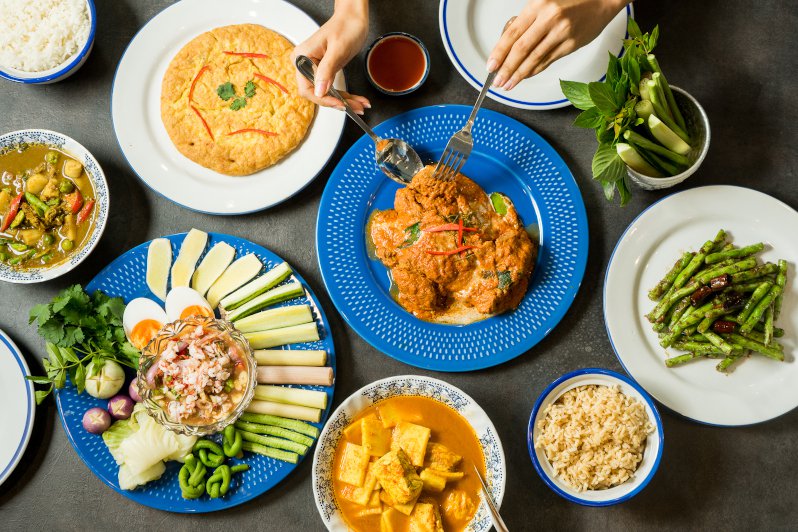 This Thai restaurant is run by the same owners as The Local, a longstanding Bangkok institution that's made Michelin's Bib Gourmand section devoted to budget eats for three years running. The menu here leans heavily on the daily catch, whether it's the fish fillets in the Southern-style spicy yellow curry with young coconut shoot or the savoury shrimp paste dip served with assorted veggies. You also can't go wrong with their spare ribs served in a thick red curry. Put out the fire from the food with some herbal drinks like pandan or butterfly pea juice.
2/F, Terminal21
Tel: +663-325-2407
One local dessert you simply need to try on your visit is Cha Tra Mue's Thai tea soft serve. The 70-year-old brand's creamy orange tea mix is a ubiquitous staple at street stalls up and down the country, and a couple of years ago it launched an ice cream version that quickly caused outrageous queues. You still might face a short wait at Terminal21, but it's totally worth it for this smooth, not-too-sweet soft serve.
1/F, Terminal21
Tel: +663-307-9777
Terminal21, 456, 777, 777/1 Moo 6, Pattaya Nuea Rd.
Tel: +6633-079-777
All restaurants open 11am-11pm