At TAAN, the flagship Thai restaurant at Siam@Siam Design Hotel Bangkok, Chef Thep whips up an innovative take on the cuisine using only the freshest local produce. His cooking philosophy is that nothing is sacred, and that applies to the street dishes beloved by all.
"Pad kaprao is hard to hate," Chef Thep says, "but everyone has an opinion on it." The stir-fry is ubiquitous throughout Thailand; hit the streets and you'll soon be confronted by the heady aroma of chili and basil emanating from a sizzling wok. No two versions are quite the same, and that suits Thep's cooking philosophy.
After discovering his passion for cooking at 18 years old, Thep worked in high-profile French restaurants in both Thailand and France. However, it's only with TAAN, which opened in late 2018, that he's found his true calling.
Thep's eureka moment occurred during a visit to Hin Lad forest in Chiang Rai province, where he witnessed the sustainable ways of the local Pga K'nyau tribe. He then vowed to take the greatest care when sourcing every single ingredient.
"Throughout Thailand, we have farmers and fishermen who put their work before their own livelihoods. They act responsibly towards the environment. I honour them by using 100-percent local ingredients," Thep says.
Thep's past experience cooking French cuisine gives him the confidence to push the boundaries of Thai food. There's no greater example of this than his version of pad kaprao.
"People are always debating which ingredients should and shouldn't be included in pad kaprao," Thep says. "For me, there's no right or wrong; it's a matter of preference. What most agree on is that it's a Chinese-style stir-fry based on garlic, chili and kaprao [Thai holy basil]."
The rest, Thep says, is open to interpretation. "The trick is in the seasoning. At TAAN, I crossed the line between 'right' and 'wrong' by using Budu sauce instead of black soy sauce and adding ginger flower for added texture."
"Layering is where my French cooking background kicks in. A typical street kaprao will punch you with heat. The ingredients are all thrown in the wok at the same time. I like to slice my pork shabu-style first and caramelise it. I also like adding herbs like lemongrass and galangal, which bring their own properties."
While Thep is a stickler for certain ingredients ("Thai garlic is smaller than Chinese garlic and must be peeled by hand, but the flavour is so worth it!"), he's aware not everything is readily available outside of Thailand.
Read on for his foolproof version of pad kaprao that also encourages you to get creative.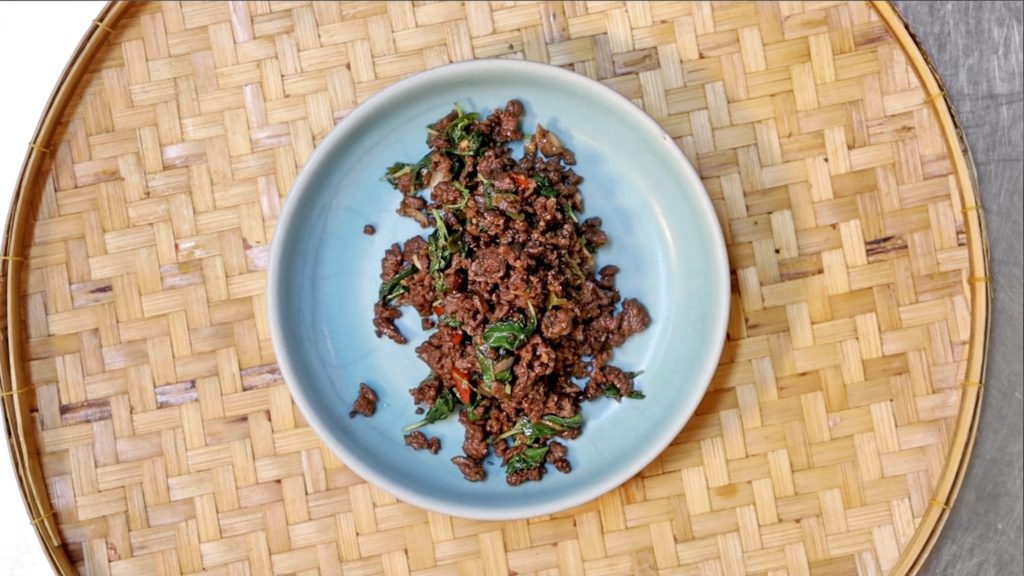 Pad Kaprao – Makes 4 Servings
Ingredients
Paste
15 cloves Thai garlic (peeled)
10 Bird's eye chili
2 Stems coriander root (optional)
5 g. Thai kaprao leaf (or Italian basil if you need an alternative)
Protein
300 g. Sliced pork loin / beef / chicken
Sauce
A handful of picked kaprao leaves
50 ml. Cooking oil / Pork lard
20 ml. Soya sauce / Shoyu
20 ml. Fish sauce
10 g. Caster sugar
(Feeling adventurous? Other suggested ingredients include long beans, ginger glower, galangal and lemongrass.)
Method
Paste
Chop coriander root as thinly as you can
Add peeled Thai garlic and bird's eye chili to a mortar and pestle or grinder, followed by coriander root and kaprao leaf, and work into a rough paste. Be careful not to make it too fine; you should still be able to clearly see chunks of chili. Set aside.
Stir Fry
Heat wok until it starts smoking
At low-medium heat, pour 50 ml. of cooking oil and roll the pan to cover the surface. Let it heat up to high.
In a bowl, season pork with fish sauce and toss. Add meat to the wok, spreading each piece with a spatula. Keep rolling the pork quickly and turning the wok frequently to prevent a sticky pan.
Once the pork starts to caramelise, push the meat to the outside of the pan leaving a hole at the centre. Add your paste and stir fry quickly with pork.
Season with soy sauce, caster sugar and fish sauce, and finish with kaprao leaves. Wok fry quickly and gently.
---
BONUS!
Chef Thep recommends serving over Jasmine rice with crispy kaprao leaves and a deep-fried egg — here's how to make those.
Ingredients
Crisp Kaprao Leaves & Deep-fried Eggs
Handful of picked kaprao leaves
4 Eggs
200 ml. Cooking oil
Method
Crisp Kaprao Leaves
Prepare a sieve over a high pot or pan (capable of holding 300 ml. of heated oil)
Heat an iron wok on high till it starts smoking
Pour 200 ml. of cooking oil into the wok, and throw in a handful of picked kaprao leaves. The leaves will pop up, curl, and turn transparent. Quickly strain through the sieve into the pan and rinse the oil off. Set aside.
Deep-fried Eggs
Heat iron wok on high till it starts smoking again. No need to clean it first.
At low-medium heat, pour 50 ml. of cooking oil into the wok and roll it to cover the surface. Let the oil heat up but not get too hot.
Crack an egg into the pan at mid to high heat. Before long, the edge of the egg will start to crisp and turn golden brown. Continue cooking yolk to preference.