Born in Kyoto but based in Berlin, Midori Hirano is a classically trained pianist who blends acoustic and digital elements across spellbinding soundscapes. Fresh from releasing her latest album Mirror in Mirrors, Midori is set to perform at Thailand's Wonderfruit festival this 14 December. Here, she'll take part in the Musicity project, which sees a range of experimental artists perform their own musical interpretations of iconic Bangkok buildings, areas or other urban features. Her task is to replicate the city's bustling Hualamphong Railway Station through sound. We asked Midori about her creative process, as well as her thoughts on "deep listening" and the Japanese ambient tradition.
Credit: Sylvia Steinhäuser
What is your earliest memory of playing music?
When I was around four years old, my parents bought me a small organ and this was the very first instrument I learned to play music with. It was nothing special, but it made me interested to play a real piano, which became my main instrument later.
What can you tell us about the process behind your latest album, Mirrors in Mirrors? Were there any particular concepts from which it all started?
Actually I didn't have any specific concepts during composing this album. I rather tried to let myself be free from setting a particular concept. I just kept composing one from another with abandon, but at the end it all came together well in one shape. Each track was made by affecting each other, so that's why I named the album Mirrors in Mirrors. I'm very happy with what I've done for this album.
Your music is often described as a blend of digital and acoustic sound. What got you interested in electronic music?
My interest in electronic music came relatively late. After finishing my studies, I started working at a recording studio in Tokyo where I made lots of ringtones, and helped doing studio recordings for commercial music. This is how I learned to use a computer and other electronic instruments to make music. The whole thing was very exciting and new to me, especially as I had become bored with the conservative side of the classical music world. My colleagues there introduced me to their favourite electronic music. I was pretty excited to learn that it is possible to make and record music without any super-expensive equipment. My studio experience was great to improve my tech skills, but the more I learned, the less exciting the work became—it was too commercial for me. So I started making my own music which doesn't have anything to do with making money; it was just for fun. I really needed to have my own little sound world in order to escape from my work at that time, and tried to go to clubs or concerts or anything which got me interested. There were plenty of clubs or shows in Tokyo, and that was a real start for me to go deeply into electronic/experimental music.
You'll be a part of the Musicity project at Wonderfruit, where several artists will perform musical interpretations of iconic Bangkok locations. Can you tell us about how your involvement in this project came about and your working process?
I started working with Erased Tapes at the beginning of this year as their publishing artist, then Robert [Raths, Erased Tapes founder] kindly asked me if I'd be interested in participating in this Musicity project as well as playing at Wonderfruit festival, which sounded totally exciting for me. And as I've never been to Thailand, I became curious about how I could interpret the city of Bangkok into music. I've just finished composing a piece for Hualamphong Railway Station, which is one of the main stations of Bangkok. I did some recordings at the station with my field recorder and contact microphones, and used these materials as part of the sound sources of the piece. Then I added melodic layers on top of them and processed it all together. Since the station is the place where a lot of people keep arriving and leaving, I tried to use different kinds of sounds from the recordings as much as possible to put some stories you can feel with the track. Particularly from the sounds of train engines, a hiss of escaping air, people's talking, walking, or some comical music from an announcement. I believe those elements make my track pretty much site-specific for Bangkok's station.
Is this concept new to you? As someone who has travelled a lot (moving from Kyoto to Berlin and touring), does sense of place play a big part in your music?
Absolutely yes—different air, temperature, language, culture, people, how the city or nature looks, how people talk, is always inspiring. I can't explain well how exactly those affect my music, but I'm sure it comes unconsciously, like food you eat every day.
What are you looking forward to most about Wonderfruit? What do you find different about performing at festivals as opposed to concerts?
There seem to be tons of artists who are going to play at Wonderfruit, and to be honest I still don't know many of them. I find it amazing that this festival invites many different kinds of artists, from known to unknown, so that the line-up is quite diverse. This is one of the most exciting things about playing at festivals opposed to single concerts—you can encounter lots of new artists and people. Sometimes it's exhausting but still it can be a very special experience.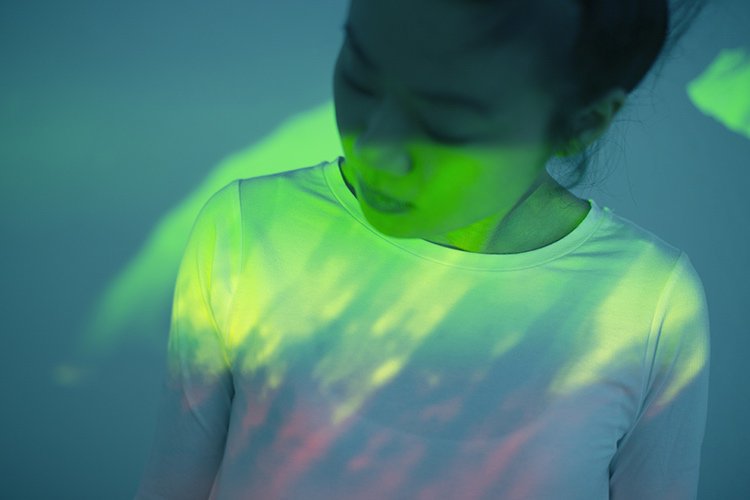 "I think 'deep listening' is deeply connected to the attitude of finding subtle things you usually don't notice. I hope many people of our time can try it."
I first came across your music as part of the Longform Editions series to which you contributed a half-hour-improvised piano piece. What does the concept of "deep listening" mean to you?
Deep listening is the direct opposite attitude of listening to pop music or any kinds of music where you tend to expect developments or speed. I think this "deep listening" concept is deeply connected to the attitude of finding subtle things you usually don't notice. So I hope many people of our time can try it.
You also record under the name MimiCof. What do you see as the main differences between both projects?
The project under my own name is based on the mixture of acoustic piano and electronics. And MimiCof is more electronic and beat-oriented but also experimental at the same time. Sometimes both sound similar, since both projects come from myself. But I still need these two names separated, to allow myself to do different kinds of sound experiments. It makes more sense when I play concerts, as each project require very different settings (clubs or concert halls, for example).
In addition to your work as a recording artist, you compose music for film, video art and contemporary dance. What are the latest projects you've been involved in?
I recently worked on a film score for a short documentary called Mizuko directed by New York/Japan-based director Kira Dane and Katelyn Rebelo, who won an award of special mention at the International Documentary Film Amsterdam last month. This is a film about the Buddhist rituals of healing that exist in Japan for people who have had abortions. The theme is kind of serious but somehow it's a very beautiful film, so I'm happy that I could be involved in as a composer.
There's a lot of interest right now in older Japanese ambient/experimental artists like Midori Takada and Hiroshi Yoshimura. How much do you identify with these artists (if at all)? Do you feel your works are based in a particular culture?
I've been fascinated by such big interest in older Japanese ambient music in the West right now. I got this Kankyo Ongaku compilation as a birthday present from my friends this year and listened to all those tracks. But to be honest I knew very few of the artists from this compilation—for example, Joe Hisaishi, who is famous for his scores for Hayao Miyazaki's or Takeshi Kitano's films. I liked his music when I was a kid, but I never defined his music as ambient music—but that is just because I didn't know this musical term at that time. So I find it very interesting to hear his music again after a long time in a very different situation. But I don't think this music made an impact on my work, really. As I said, I know very few of the artists, so I would rather explore this music these days.
---
Midori Hirano will perform at Wonderfruit's Theatre Stage on Saturday 14 Dec, 6:30pm. Tickets are available here. The four-day festival of art, music, food and wellness returns for the sixth time this December 12-16, 2019 and Siam@Siam Design Hotels is proud to be the Official Hotel Partner.
Links: Soundcloud | midorihirano.com | Mirrors in Mirrors on Bandcamp
Cover photo: Midori Hirano by Sylvia Steinhäuser