When it comes to Bangkok's small but flourishing house and techno scene, DOTT (formerly Dogs on the Turns) sits at the more experimental end. Twenty-eight-year-old producer and DJ Pakarapol "Top" Anantakritayathorn has been actively making music for the past seven years and filling sweaty dance floors for almost as long. Earlier in 2019, he shared with the world his debut physical release, the Mah Noi EP, which came out on the More Rice vinyl label he co-founded. Fresh from a recent tour of Europe, he's set to make an appearance at Wonderfruit's Quarry Stage this December. We sat down to discuss his musical beginnings, shifting sound and what the future holds.
DOTT at an Unst party. Credit: Pavel
How did you first get into making music?
Back in my second year of university, I was really into online games. Then one day I downloaded a crack of Ableton and I started randomly making music. I became addicted. I had always been involved in music. My mum forced me to play piano—a true Thai family thing—and I eventually picked up guitar. I went to boarding school in India for a year and started playing in marching bands just to get out of class. Then I had a band with my brother, where I switched to playing bass. However, we separated for university and my music career was over at that point. Downloading the program turned me onto electronic music, which I was anti up to that point. I felt, "Oh shit, you can actually do this alone, you don't need to argue with anyone else." It was a feeling of freedom. I started to DJ with only a little bit of knowledge of electronic music, mainly UK garage, before going more and more underground.
Were there any specific artists who influenced you?
I couldn't say any one artist has had a big impact. The question, "Who is your favourite artist or DJ?" I can't answer. It all adds up. There are lots of influences, including friends around me.
Speaking of friends, what's the electronic music scene like in Bangkok right now?
It's gotten better and worse in different ways from five years ago. Back then you only had one club playing underground music, and that was Glow. Every Thursday, Friday and Saturday was packed with 200 or 300 people. People saw an opportunity and opened more clubs. Then people became divided. Underground music here is more than 70-percent driven by expats, but the locals are getting stronger. Collectives that really keep the scene going and try to push new boundaries all the time include Mela, Karma Klique and Unst. For New Year's Eve there's a cool intimate festival called Fly To The Moon [on Koh Mak in Trat province], which has been happening for a couple of years and keeps getting better.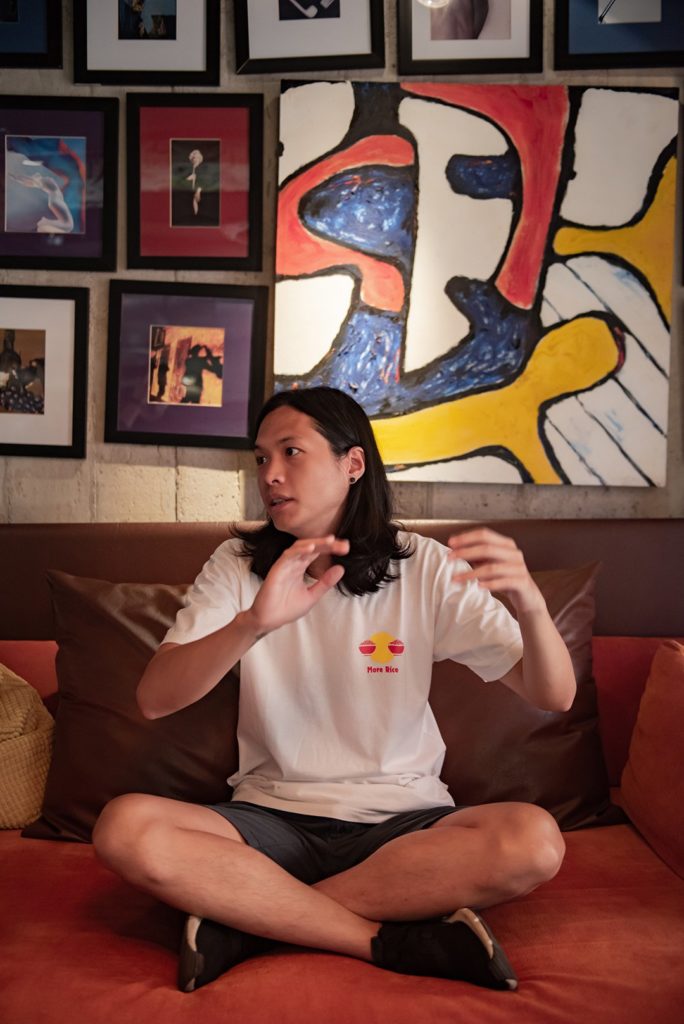 "A lot of music relies heavily on emotion. Mine is different. I see it as meditation, but you're dancing not sitting down."
How would you describe your music?
Minimal, micro… I don't want talk genres. Everything is mixed together nowadays. What's important to me is body and mind. I see the body as having a lot of liquid in it, and when you have a proper soundsystem, the sub-bass, the kick, connects with this liquid and that's what makes you move your body. Then with the mind, there's the mid-frequency that distracts you, keeps you in the groove. A lot of music relies heavily on emotion. Mine is different. I see it as meditation, but you're dancing not sitting down.
What can you tell me about your name, Dogs on the Turns?
For now it's just DOTT. When I made tracks and had a long name, you couldn't see the track name on Soundcloud. So I just abbreviated it. It could also refer to just a dot. You know, I don't talk much. People may see me as very quiet or cold when they meet me. Actually I'm just shy.
In a Mixmag feature, they mentioned you've created a lot of music. How come so little has been released?
I've been making music for seven years, if not more. One thing is I had my old laptop stolen in Frankfurt and I didn't back it up at all. I lost around 700 tracks. I had to start all over again. I can never recreate stuff from myself or other people. talk much. People may see me as very quiet or cold when they meet me. Actually I'm just shy.
What can you tell us about your Mah Noi EP?
It's very different from what I'm playing right now. It's more emotional, more accessible. That was my first physical release. I thought maybe I would include some Thai dialogue in my track ["Unbreakable"]. It's actually something funny from a comedy, but the track itself is very emotional. I'm just playing around. I find having just little melodies taken from Thai instruments also sounds really exotic. The EP's out on More Rice, my label with my friends Sarayu and Mikhail from Manila.
What's the story behind More Rice?
We wanted to start a vinyl-only label, because not many people are doing that here. We wanted an exotic sounding name, so we chose "More Rice" because it's an everyday saying across Asia and its a way of connecting with others across the region. Our first release was by Tarsius from the Philippines and it sold quite well. The second one was by me, and we had a good friend, Eric Volta, help with the remix. The next one is scheduled for next January by Mogwa from Korea. Sarayu and Mikhail are pretty connected with artists around the region. They have their own style and I have my own style, but we help each other out. The vinyl is pressed in Germany and distributed by Lobster Theremin. It all happens in Europe for now.
Are you a vinyl collector?
I love vinyl, I love to dig and find older records but here in Asia it's almost impossible for my kind of music. I need to go to Europe or Japan. So, personally, I only collect vinyl when I'm travelling. I don't want to order online. I spend that time doing other stuff. Last tour, I went to Europe with 15 records and came back with 65 more. I stopped by Paris, Switzerland, Berlin, Brussels and then Holland. This was a three-month tour.
What was your most memorable show?
I played a secret festival in the south of France that was only open to 200 people who like this certain kind of niche music. People were dancing in the pit for four days in a row. There were famous artists from this scene, but everyone was so down to earth.
What do you love most about Bangkok?
Everything, actually. I thought I was going to like European countries more because people are more open-minded, but when I went there for three months I just missed Thailand and Asia: the culture, the food, the people. I feel the liveliness more. The food plays a big role too.
Have you played Wonderfruit before?
Not on the big stage. This year I'm playing at The Quarry. I like it because it's very dark with a real jungle vibe. There are a lot of good acts coming, like Floating Points and Binh, who's a Vietnamese-German producer of minimal house and techno, so I'm very excited. Craig Richards is a really great curator and he's taken a lot of people under his wing, so he can put them on at the perfect times. The Quarry this year will open during daytime from noon till 6pm and then start up again at 10pm till 6am.
Tips for surviving the four-day festival?
Eat enough, stay hydrated, see the right acts and you will never be tired. I love the music and art installments, but having friends together is enough. The rest is just a bonus.
What's coming up next?
In 2020 I will most likely have two vinyl releases for other labels—one with my good friend in Austin, Texas, and the other with Ekoh Festival, which is a group of people from France and Switzerland who will host a small, three-day festival on Koh Lanta next February. They will team up with ResurRec test pressing factory to press 100 limited-edition records made using recycled trash from the ocean. It will be given to people who attend the festival. It's cool that something that can't be destroyed can be turned into something useful. I have a collective called Unst and we are doing parties. We focus on making parties with groove music, kind of body and mind. We want to bring together collectives with similar directions from around Asia.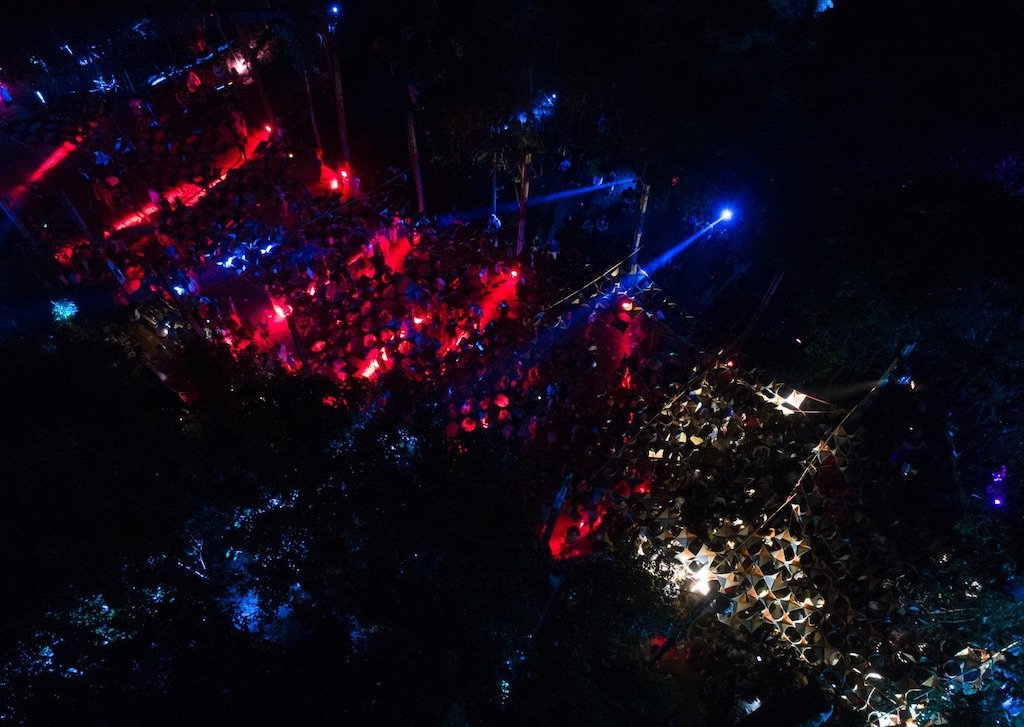 DOTT live at Unst. Credit: Pavel
Where to Party in Bangkok, According to DOTT
Glow
"Glow has been around for 12 or 13 years and the soundsystem is good. I've grown up with the club. Without Glow I wouldn't have come this far." www.facebook.com/GlowBkk
12×12
"12×12 feels very cozy and the Japanese owner Hiroshi is very careful with everything. When you're setting up for music he'll do everything one by one and never let you touch anything. It's a proper Japanese style. It's easy to create a vibe. That's the thing about Bangkok now, it's so difficult to create a vibe in a club. There are so many clubs now, everyone is divided." www.facebook.com/12x12bkk
Safe Room
"I also like the vibe at Safe Room. It's far from the usual party areas and it feels really different." www.facebook.com/saferoombkk
Marcel Bar & Kitchen
"My friend has a bar on Sathorn Soi 10 called Marcel, which is great if you're feeling lonely. Suddenly everyone is your friend. The owner and staff there really interact with the customers. Good music, good drinks and good French tapas." www.facebook.com/Marcelbarandkitchen
---
DOTT will play at Wonderfruit on Saturday, Dec 14, 10pm till midnight, at The Quarry stage. The four-day festival of art, music, food and wellness returns for the sixth time this December 12-16, 2019 and Siam@Siam Design Hotels is proud to be the Official Hotel Partner. Here are a few reasons to "wonder our way."
Cover photo: DOTT at Unst. Credit: Pavel