Bangkok's fitness scene has never been so vibrant. If you're visiting town and looking to squeeze in a workout (or three), consider Base, just a quick BTS ride away from Siam@Siam Bangkok. This innovative combination of strength and HIIT (high-intensity interval training) earned the studio the title of Asia's Best Gym in 2018, while they're also blazing a trail for their pioneering fitness tracking methods. We caught up with Base's founder, Jack Thomas, to talk about what sets his studio apart from the rest, what he loves about Bangkok and why maybe, just maybe, you want to think twice before pigging out on street food.
Siam@Siam Design Hotel Bangkok have teamed up with Base to offer amazing deals for hotel guests. Read on to find out more.
What's the concept behind Base?
We offer a mix of strength, cardio and HIIT training. For group classes, we have some that are just cardio, some that are just strength and some that combine both. We also have personal training. For cardio, we have treadmills, rowing machines, bikes. For strength, it's mostly free weights, dumbbells, kettlebells, medicine balls, TRX. The idea was to create a gym that would really stand out whether it's in Sydney, New York or London. We really wanted to raise the standards of what was being done in Thailand. That's everything from nice bathrooms and nice showers to state-of-the-art equipment. We've somewhat achieved that. We won Asia's Gym of the Year in 2018, an award which is predominantly chosen by industry judges with some public vote. We were up against some big names from Singapore, Malaysia and Indonesia. It was a big deal for us and certainly a victory for Thailand's fitness industry.
Tell us about how you track clients' progress.
We've developed our own technology to help track our clients' results. As you go through your group class, you can record your run sets, the distances you run, road sets and bike sets. You can then tap in your name, your distance and it comes up on our leaderboard. Next you'll be able to log-in and track all your sets over time. If you just started at Base today, in a year you could see how much your cardio and strength have improved, pretty much your overall fitness score. We also link in a body composition scan, your body fat percentage and muscle mass. You can see not only are you getting faster, getting stronger, but your body composition is developing as well. This level of detail is not really done anywhere. Usually you train hard, you sweat hard and in the end you burn so many calories and you're happy.
What else makes Base stands out from the rest?
You can say stuff like our coaches are leading the industry or our customer service is the best, but then again every gym is going to say that. Nevertheless, it's true (laughs). No, our coaches really are very good. We invest a lot in them; we give them an annual training budget. We've got 26 trainers now so our experienced coaches help mentor the newer ones coming in. That's what complete the process: you can have great programming, technology, soundsystem and everything else, but it's the coaches who really bring it and make it a truly great experience. All classes are in English, all staff is fluent in English, so we have an international feel with our brand.
"The idea was to create a gym that would really stand out whether it's in Sydney, New York or London. That's everything from nice bathrooms and nice showers to state-of-the-art equipment."
How would you describe your clientele?
We are about 65 percent female, which is actually quite high for males in the industry. I would class us as boutique fitness, which is more on the premium side: small with a more personalised service. Also, in my time, we've gone from maybe 95% expat and shifted to about 80% Thai. So it's basically completely flipped.
How is the local attitude towards fitness developing?
A lot more Thais take their fitness more seriously now. We're seeing a lot more females doing strength training, which was unthinkable 15 years ago. We've had coaches and clients who've competed nationally and internationally in powerlifting. Another big shift is it's become cool. People want to tell their friends that they train at places like Ryde, Physique 57, Base… and when they visit other cities, they go to gyms there. It's now a really fun environment. People meet new and old friends at the gym. It's become like a real experience, something people look forward to, and that certainly wasn't the case when I used to train. Clients will tell people they train there, they'll wear all the gear. It goes deep with some brands, it's almost part of your identity. If you look downstairs at Anytime Fitness, I don't think that sort of atmosphere excites some people at all. Bangkok really is an international fitness city. It just sits a little bit behind Hong Kong and Singapore. People might come and be surprised. I'm pretty certain you could put Base in Sydney or London and it would do well.
What drives people to go to the gym these days?
It varies so much. There's definitely a lot of people who just want to look good. There are people who value being healthier and stronger, especially people who are 30-35+. People want to age gracefully. They want to be 60 and still be active. I think that's important for everyone, but especially for women because if you don't do any form of strength training you're more prone to weak bones.
What do you love about Bangkok?
There's a real energy and a real edginess. At the same time, people are just so genuine and friendly. The Thai people ultimately make it what it is. They're awesome. I'm definitely just a city boy through and through too; they're always new restaurants and bars opening up. I get to meet so many new people. I could never live on an island where you know every single person. I'd struggle with that.
What are some places you like to take friends that visit?
My favourite is Koh Kood [an island in Eastern Thailand]. That place is just magical. I first went there 15 years ago and there was nothing. There was only one slow boat that went there. Everything was so cheap it was almost free. Everything was just stunning and beautiful. It's developed a lot, but has still retained a lot of its charm. You wouldn't know some of the resorts are there, they're really in line with the natural aesthetics of the place. Not massive concrete blocks that look like prison cells. Everyone goes to Koh Chang because it's so easy, but go a little bit further and it's absolutely stunning.
How about must-visit restaurants in Bangkok?
I have a few classics like Appia on Soi 31 and Soul Food on Thonglor. Soul Food's a really nice mix when you want something local, but with a twist. Very high-quality stuff with good service. It's good for foreigners who want something local, but not too local. We like to order a whole load of stuff. I love brunch spots like Toby's and Not Just Another Cup. I like my English breakfasts. I quite like those spots because you can just bring your computer and work, as well. For healthy food, I'll give Broccoli Revolution a shout-out, even though I'm not vegan. They do a good job and they're walking distance from the first Base in Thonglor.
Any other favourite spots you like to go?
If I want to get away a little bit, without physically getting away, I go for a run and it's usually at Benjasiri Park in Asoke or Lumpini Park. For me, it's about leaving the phone at home, going for a run there and maybe doing a little bit of bodyweight exercises. If I bring my phone, there are notifications and you suddenly find yourself on Instagram. Honestly, I go running usually because I'm more training for something like the Spartan Race. You hear the term functional fitness being thrown around a lot, but for me it's really functional fitness: you need to carry things, climb over things and crawl.
Do you have any rules for staying in shape when on holidays?
I can combine work and pleasure when I'm travelling by checking out some of the studios and see what they're doing. I also run a podcast about the fitness business in Asia so often when I'm traveling I'll do interviews. So I can tie all those things together with a holiday and it keeps me fit! At the very least I like to keep moving when on holiday. If I had a few days of just doing nothing I would begin to feel just not very good. A day or two by the pool with pina coladas is fine, but after that I'd feel it.
How about when it comes to eating?
I'm not so sure about "cheat days." I think they can get a bit out of hand. When I'm on holiday I'll pretty much eat what I want, but just not go crazy on the calories. If there's a great burger spot, I'll have a burger. Italian, I won't hold back. But I'll try to keep the overall days' calories relatively low. Eat what you want, just don't binge all day and every day, and keep moving a little bit—you should be fine.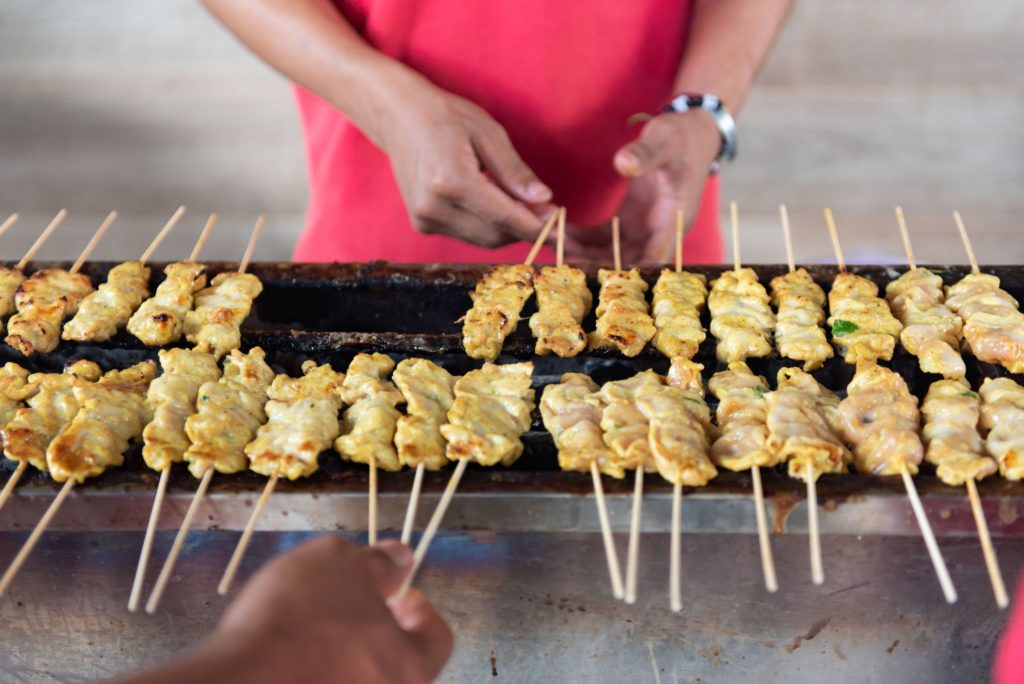 Any tips when it comes to street food?
If you're looking for healthy, street food is going to be tough. They're just going to use the worst quality meats, the worst quality oils and they're going to do everything they can to make it taste good without any consideration given to the health of the meal. Sometimes it might look fairly healthy—oh, there's vegetables, there's meat—but that won't really be the case. Beware sugars in the smoothies and sauces. The oil is the worst thing for me. Often they'll use the cheapest, nastiest oil you can possibly buy, because that's how they manage to make pad Thai for THB 40. It's great, knock yourself out and enjoy it, but be aware that it's probably not the healthiest. There are a couple of chicken-rice places I like, including one on Thonglor [Boon Tong Kiat Singapore Chicken Rice] which is street-food style, just opposite J Avenue.
Any words of advice for first-timers to Base?
It's normal to be a bit scared or intimidated. We've got stories of countless people who've come in, really nervous, maybe their friend or wife persuaded them to do it. Those first few sessions are a bit tough, but our coaches will always look after you. They'll make sure the session is made right for you. It's not competing against everyone, it's about you improving. Get through the initial barrier and you can create a true, lifelong habit.
Base now has three branches in Bangkok, the nearest of which is their flagship at Amarin Mall (less than 20 minutes from Siam@Siam Design Hotel Bangkok via BTS Skytrain). Check out Base's Facebook.
Want to try? We've got just the deal for you. All Siam@Siam Design Hotel Bangkok guests can claim 50-percent off their first drop-in class (THB 450 down from THB 900) and a raft of other generous discounts. Talk to our friendly staff at the lobby to learn more.