The new Marvel blockbuster is out, you crave an arthouse screening or you simply want somewhere to kick back in air-conditioned comfort away from the scorching sun—Bangkok has a diverse selection of cinemas that'll cater to your every whim. Read on to find out which cinema is the best choice for you.
Credit: Bangkok Screening Room
Credit: Bangkok Screening Room
Indie Pick: Bangkok Screening Room
More like catching a movie at your friend's house, this small, 50-seat cinema trumps all others with its curated selection of arthouse films both past and present. Not only do they show international cult classics, but BKKSR is your surest bet to see the latest indie films from Thailand that only get limited runs elsewhere. Keep an eye out for fun, interactive events (think rooftop screenings of Star Wars to celebrate May the Fourth Day or the annual LGBT+ Film Festival). A solid list of nibbles, beers and boozy milkshakes make this more than just another cinema. While you're there, check out the rotating art exhibitions at the adjoining Woof Pack Gallery and grab some ice cream from Guss Damn Good whose flavours are always evolving and even come under intriguing themes such as "Equality" and "Love is Love."
Price: THB300 for adults
2/F, Woof Pack Bldg., 1/3-7 Sala Daeng Soi 1.
BTS: Sala Daeng
Tel: +6694-125-9906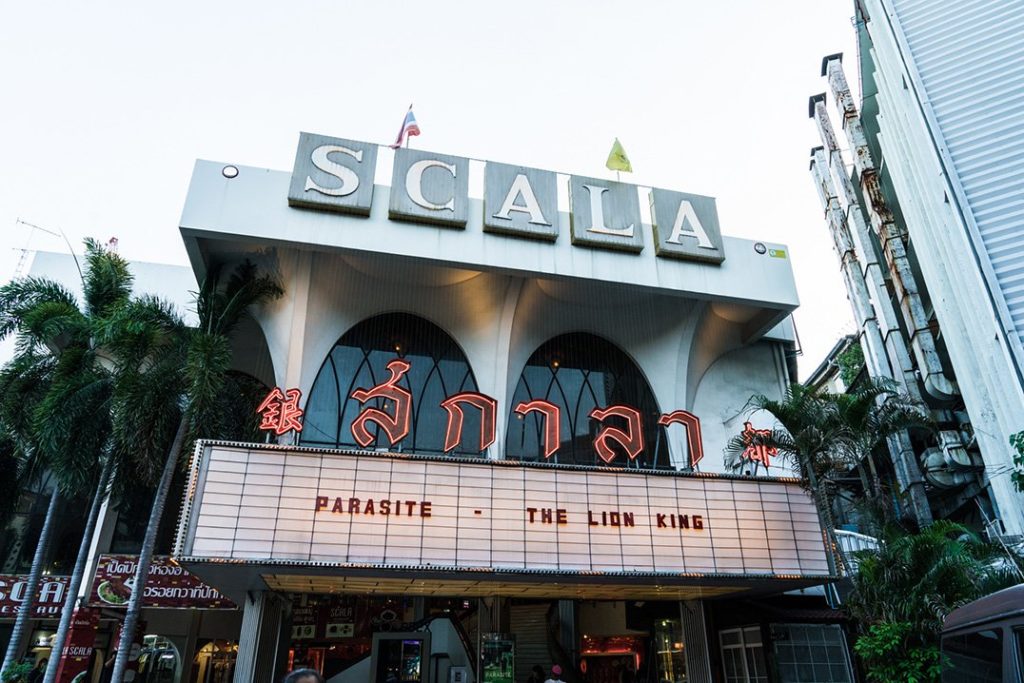 The Grand Dame of Bangkok cinemas, Scala was completed way back in 1969. Despite a few redevelopment scares over recent years, it looks set to stay for the long haul. The cinema's old-school facade, complete with marquee signage, makes for Instagram gold, and so too does the imposing flight of stairs that leads up to the Art Deco atrium with its shimmering chandelier. The price for new-release films typically comes in at THB120—and, while you don't get all the mod-cons of the shiny new cinemas, that's a real steal. They don't make them like they used to.
Price: Starting at THB120
Siam Square Soi 1
BTS: Siam
Tel: +662-251-2861
Credit: Siam Paragon Cineplex
Pampering Pick: Enigma at Paragon Cineplex
Bangkok has no shortage of VIP cinemas, but here's perhaps the granddaddy of them all. Located in the swanky Siam Paragon mall (Bangkok's most checked-in place on social media), Enigma promises to go above and beyond your usual cinema experience. Your ticket (THB 4,000 per couple) also gets you a meal and welcome drink (wine or cocktail) served directly to your pod during the movie. The 35 couples' seats—sorry, sofa beds—is fully reclinable, making for one super-comfortable experience.
Price: THB4,000 per couple
5/F, Siam Paragon, Rama 1 Rd.
BTS: Siam
Tel: +662-129-4635
Credit: Siam Paragon Cineplex
To really feel a part of the action, head to CentralWorld mall for this next-level 4D cinema whose plush seats jostle you about throughout the film. That's not all, though. The cinema's developers proclaim it a fully immersive experience thanks to special-effects that bombard you not only with the movie's every movement, but even water and scents. Prone to motion sickness? This is not the cinema for you.
Price: Starting at THB310
SF World Cinema, 7/F, CentralWorld, 999/9 Ratchadamri Rd.
BTS: Siam/Chit Lom
Tel: +662-268-8888
Cool Kid Pick: Lido Connect
This 50-year-old Bangkok institution underwent a major revamp in early 2019 courtesy of Thai record label Loveis Entertainment. The result is something far more than just another cinema. In fact, only one of the three original screening rooms operates as a theatre, showing mostly indie flicks and documentaries. The other two are used for live music and stage performances. Also here you'll find fashion and lifestyle boutiques, and a handful of cutesy cafes.
Rama 1 Rd.
BTS: Siam
Tel: 064-181-4567
Open daily 10am-10pm
Pro Tip
Looking for an absolute bargain? Visit MBK's SF Cinema on a Wednesday when tickets start at just THB100/person, down from the regular price of THB200 and up. The cinema is less than 500 metres' walk from S@S Bangkok.