Yaowarat, the bustling main road of Bangkok's Chinatown, is one of the city's must-visit foodie destinations. The decades-old stalls and restaurants here offer up some of the finest Chinese food outside of China, as well as plenty of Thai dishes for company. Here, we've curated our favourite eats along the red lantern-specked street and its surrounds so you can eat your way around Yaowarat like a local.
Fresh Seafood at T&K Seafood
This seafood stall-slash-shophouse is the No.1 destination for seafood delicacies on Yaowarat. For the full experience at Toi & Kid Seafood grab one of the tables on the tightly-packed sidewalk and order up some juicy stir-fried crab with yellow curry, deep-fried garlic-y and peppery crab, and, the most marvellous of all, deep-fried white snapper topped with three-flavoured sauce. A few tall bottles of beer will help take the edge off the barmy Bangkok weather.
Tel: +662-223-4519
Open daily 4pm-2am
Healthy Herbal Drinks at Khan Ki Namtao Thong
While juice cleansing is all the rage now among the healthy crowd, the folks in Yaowarat started the trend long, long ago. Khan Ki Namtao Thong offers both thirst-quenching and health-boosting Chinese-style herbal drinks, whether it's roselle to help with digestion and rehydration; bael, a musky fruit renowned to aid gut issues and reduce blood sugar; or any number of more challenging concoctions.
Tel: +662-623-0718
Open daily 8am-10pm
Glutinous Rice Balls at Bua Loy Sam Kasat
Sure, you could stick to mango and sticky rice when it comes to dessert, but then you'd be missing out on the deliciousness that is bua loy, a Thai treat of rainbow-coloured glutinous rice balls in sweet, luscious coconut milk. We're convinced Bua Loy Sam Kasat serves the best version of this dessert in the neighbourhood. Adventurous eaters can also add some syrup-poached eggs on top for a whole new experience. Yum!
Open daily 2-5pm
Daily-Changing Curries at Khao Gaeng Jek Pui
For a taste of real-deal street food, head to Khao Gaeng Jek Pui, a table-free stall that serves a rotating selection of curries and sides like crisp Chinese sausage and caramelised pork ribs. Since there are no tables, only a line of red chairs, eating here is somewhat like a game of musical chairs. Grab yourself a seat, gorge on your delicious meal quickly and then pass your spot to the next hungry diner in line!
Corner of Mangkorn and Charoenkrung Roads.
Tel: +662-222-5229
Open daily 4-8pm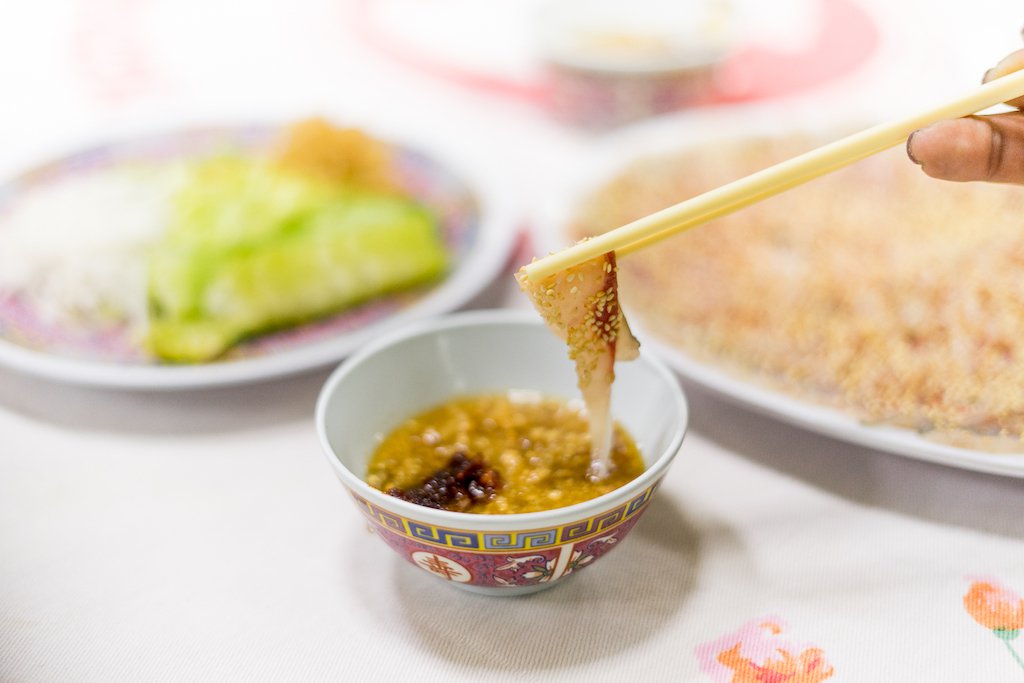 Teochew-Chinese Classics at Yim Yim Restauran
Head to the second floor of Tang Chai Yu Restaurant for the ultimate Teochew-Chinese feast. Perfected over more than 80 years of service, the dishes here are resolutely classic and brimming with flavour. Our favourites include the hua sae (Chinese raw fish topped with white sesame and sweet and spicy sauce), hae guen (shrimp and pork wrapped in tofu skin), and steamed butterfish with bean paste.
89 Soi Yaowa Phanit, 2/F, Tang Chai Yu Restaurant, Yaowarat Rd.
Tel: +662-224-2205
Open daily 11am-10pm
Fishball Noodles at Lim Lao Sa
This humble noodle stand on Song Wat Road deals in all things house-made. From the perfectly chewy egg noodles to the bouncy fishballs, superbly mellow soup and flavour-stuffed dumplings, they make everything from scratch to achieve a truly heart-warming bowl of noodles.
Tel: +6683-138-3636
Open daily 6:30-10pm
Pork Soup at Mhoo Toon En Toon Mhor Din Jao Gao Bangrak
Those hankering for a bowl with layers of umami goodness should try this late-night favourite. Their specialty pork soup in a claypot features a clear yet aromatic and depthful soup laden with succulent braised pork, meatballs and pork tendon so tender it'll win over even the most offal-averse. Worth ordering seconds.
Open Tue-Sun 10pm-1am
Steamed Rice Noodles at Guay Tiew Lord Porn Chai
Eating guay tiew lord is like giving your stomach a hug. Feast on warm, silky smooth noodles stuffed with squid and sweet-salty pork. The whole thing is drenched in a molasses-like brown sauce and topped with a handful of bean sprouts. An all-in-one hit dish.
Tel: +6681-903-9151
Open daily 6pm-1am
Tea Break at Double Dogs Tea Room
Calling all tea aficionados! This hip Chinese tearoom offers a wide range of heartwarming brews. Blends are sourced from China, Japan and Taiwan, with staff willing and able to tailor a selection to your mood or taste. For more adult refreshment, opt for some tea-infused beer or one of their tea-based cocktails.
Tel: +6686-329-3075
Open Tue-Thu 1-9pm, Fri-Sun 1-10pm
Crab Noodles at Sawang Crab Noodles
This family-run shop doles our noodle bowls remarkable for their briny, oceanic taste. We recommend ordering yours dry (ask for "ba mee haeng") with broth on the side. The garlic oil-coated egg noodles generously topped with a chunky crab claw, wontons and crisp pork will have you oohing and ahhing in delight.
Tel: +662 236 1772
Open daily 5-11pm
Peppery Pork Soup at Guay Jub Nai Ek
Nai Ek is a true guru when it comes to the Chinese-inspired noodle dish of guay jub. Slurp away at a bowl filled with tubes of rice noodles and crisp pork swimming in a peppery, sweet-from-spice broth. It's tasty, it's fatty, it's comforting–what's not to love?
Open daily 9am-midnight
Tel: +662-226-4651
Getting There
The majority of restaurants listed here are located within a 10-15 minute walk of Hua Lamphong MRT station or 10-12 minute drive from Siam@Siam Bangkok—just be warned peak-hour traffic can affect this greatly.