Chem Perez, a Filipino who moved to Thailand 12 years ago, and his Dutch fiancee Anne Steeghs are the leading duo behind Planet Cleanup, a fledgeling campaign that in just six months has led to the removal of tonnes of waste from Pattaya's beaches. We sat down with Chem to discuss the group's mission, the most common waste they find and what's so special about Pattaya.
Chem Perez and Anne Steeghs, Planet Cleanup
What brought you to Pattaya?
I came here 12 years ago, on holiday first, then decided to try living here. I got a job as an English teacher. Up till now I'm still a primary school teacher. But like many people, I realised work is not enough. My brothers and I set up a real estate agency [Elite Properties], who help sponsor Planet Cleanup with gloves and cleaning equipment. I grew up in the Philippines, where my mum runs a small surf resort. Coming to Pattaya, I was amazed to be able to meet so many different people—Thai, French, Japanese—who have helped me learn so much.
What spurred you on to start organising cleanups?
I travelled around Thailand—Koh Samet, Chanthaburi and other places—and noticed so much rubbish. I would go up walking trails to visit a waterfall and see hikers just dump their plastic bottles at the top. I think the least we can do is to give back to Mother Earth. She gives us trees, water, oxygen. Why do we give back rubbish? Our planet gives us everything to be alive. We need to learn to give back.
One time on Koh Phi Phi I had a weird experience. It's a small island; they don't have cars or motorbikes, only the police. I had a bottle of water and I was going to throw it in a bin. and someone told me 'no, no, no.' I eventually found out that they have to pay THB100 per bag to have the rubbish sent off the island and they didn't want the bag to fill up quickly. That helped open my eyes to the fact there are many factors contributing to the problem.
Some stuff I learned from my mum, who lives right in front of the beach. She's always very angry with people who come smoke cigarettes on the beach. She is not quiet about it either! She will approach people. She passed on to me the concept of 'leave no trace,' a set of ethics for campers and mountaineers that says whatever you bring, you should take away with you.
How did Planet Cleanup start?
We did a cleanup on Pattaya's Wong Amat Beach. My mum was here on holidays. We were four people. We said, 'Let's have a beer on the beach and clean.' We were able to gather four rubbish bags' full in a couple of hours. At the same time Anne and I decided to learn how to make videos. We put one up on Facebook to set an example. We've had nine cleanups since April 2019. We've teamed up with organisations like Green Pattaya, Lighthouse Church Pattaya, Missionary Family of Christ and Future Pattaya [a branch of the Future Forward political party]—we're supporting each other because of the rubbish, not necessarily because of politics. We started with four people; now thanks to social media we have volunteer numbers of 80 people and growing.
What are the most common waste items you find?
Plastic bottles, bags and straws. We even find unused straws from 7-Eleven that are still in their plastic wrapper, meaning it's double the waste. When we did a clean up in front of Central Festival mall, we picked up about a thousand cigarette butts. There are also some things you wouldn't expect so much, like diapers. We found a lot of condoms up near the Pattaya City sign. Once we found a bra.
How can people get involved?
I try to hold one or two Planet Cleanups every month. I have a Facebook page [The Good News] or people can find us via the #planetcleanup hashtag. Usually people reach out with a message and I add them to my database for the next announcement. We usually announce the cleanups one week in advance, and we're trying to be more consistent with that.
I do a survey first to pick a suitable cleaning site. I'll drive around and take pictures. In two hours, we're often able to fill 40-50 large bags. That's not always enough time when you consider all the microplastics, but it makes a noticeable difference. I try to find a restaurant sponsor each time, which means we'll spend around two hours cleaning, from about 4-6pm, then we can stick around for a meal and talk with the sunset.
What else needs to change?
Cleanups are really just part of the solution. For me the trash problem needs to be taught in schools. I think the best market for raising awareness is kids. They have fun, they like cleaning up, especially if they get to see themselves on Youtube. For grownups it's a little more complicated as they can be set in their ways. So we say, 'why don't you be the example?' The other big issue is segregation of waste. Here, people put all their rubbish in one place. If people can separate wet and dry waste, that would allow for far more recycling.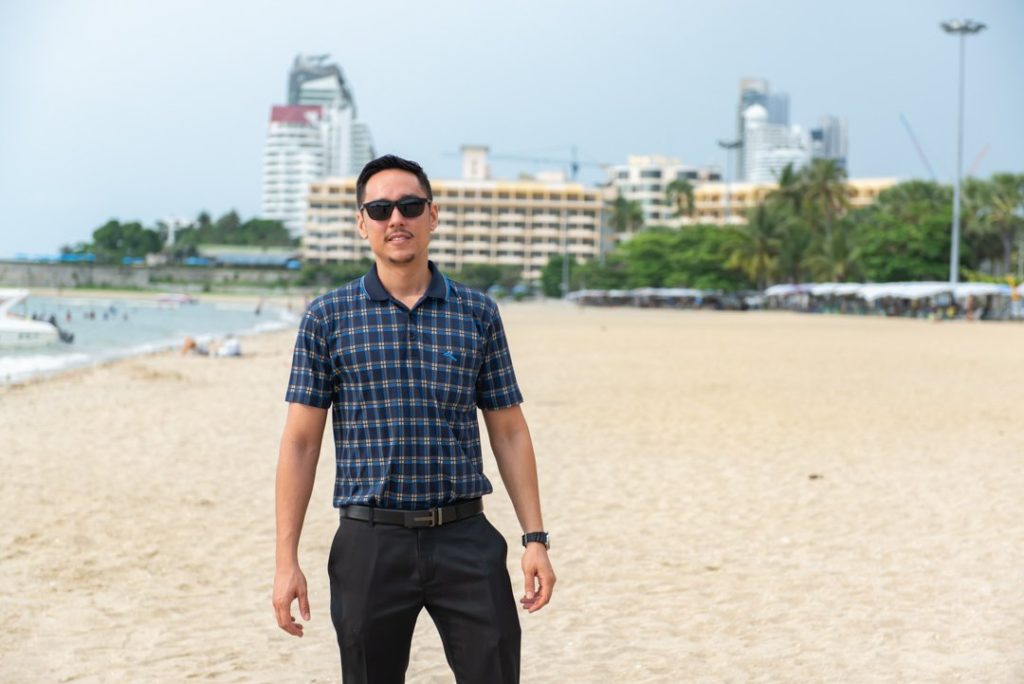 "For me the trash problem needs to be taught in schools. I think the best market for raising awareness is kids. They have fun, they like cleaning up, especially if they get to see themselves on Youtube."
What do you love most about Pattaya?
The food, the convenience of 24/7 food stalls. It's a very small city with everything. It's very difficult anywhere in the world to find somewhere where everything is reachable within 20 minutes. You can enjoy a rooftop sunset session, go bungee jump, watch a magic show, get a massage, visit an island—all within such a short amount of time. I compare it to my mum's place in the Philippines, where we need to drive one hour to just watch a movie.
What are some of your favourite places around Pattaya?
If friends are visiting, I take them to Koh Larn. it's cheap, you pay 30 baht to catch the ferry. I like the convenience and accessibility. It's just a little bit more expensive to eat. I like the sand, it's very clear. I love Samae and Tawaen beaches, though on weekends they can get a bit crowded. The one thing with Koh Larn is that there is a lot of waste, it's just hidden from sight. The beaches are pristine, but there's a big dumpsite in the middle of the island that's had a lot of rumours. If you visit Pattaya, you have to see Walking Street, especially if you like parties. Cartoon Network Waterpark is good fun. There are so many places.
How about restaurants?
I like Ae & Ek, a kind of boutique restaurant which is one of our sponsors. It's in South Pattaya and does foreign and Thai food. The chef used to work in a restaurant at one of the five-star resorts. He quit and started his own tam-sang [Thai made-to-order food stall]. He was selling selling five-star carbonara for THB50! The prices have gone up a bit since it became a real restaurant, but the quality is really high. Try the carbonara. I've also had dinner at Siam@Siam's rooftop a few times too. It's a great place to eat, swim and catch the sunset.
What's next for you guys?
My next project is probably to invite the hotels on the Pattaya beachfront to join together for a campaign. In that way all the hotels can be active in helping the environment.