Looking to inject some adventure into your Pattaya holiday? Make a beeline for the city's outskirts and Thai Wake Park, which is open to riders of all ages and experience levels. Here, you strap yourself into a special board and let a powerful electric cable propel you around a lake at up to 30km/hour, all while attempting to get some serious air off of a range of obstacles. We met up with the park's founder, Ae Thanathorn, 39, who also runs two parks in Bangkok, to get the lowdown on the sport and let us in on a few pro tips.
The extra good news for Siam@Siam Design Hotel Pattaya guests is they've got you covered with member rates (up to 50% off entry). Just ask our front desk for the details.
Ae Thanathorn, founder of Thai Wake Park
How did you first get into wakeboarding?
I grew up in Bangkok with two younger brothers. We always played sports. Around 20 years ago we drove past another water park in Bangkok. We told mum we wanted to go and soon we became addicted, going everyday. Back then the park was all about waterskiing, but eventually we got into wakeboarding.
What inspires you about wakeboarding?
Just being on the water gives me this self-competing feeling. There's always a sense of progression: if you can spin 360 degrees, you want to do 540 next time. Once you can land a trick, it's a good feeling just like with other extreme sports. When a skateboarder lands a trick, you see the adrenaline rush. You want to push your own limits. When you take part in competitions, you have to be very focused. Maybe you can do a trick in daily training, but in a competition you only have one or two chances. It's also a bit like golf. To take it seriously you need to have your own equipment.
So how did Thai Wakeboard Park come into existence?
One of my younger brothers and I began competing in Thailand and around the region. He became a world champion in a junior division. After a couple of years of this, we realised that Thai people are very good at watersports; there's just not enough parks for them. By this stage, waterskiing was already quite old-school; wakeboarding was more exciting for the young generation. Ten years ago there were five parks in Bangkok for waterskiing. We decided we wanted to do a park for wakeboarding, with kickers and sliders for flips and air tricks. As customers ourselves, we knew how the sport was going to grow. That's how our original Lamluka branch came to be.
"We're a park 'by riders for riders.' We are not just businessmen running a business. Many international visitors have commented that coming here feels like they are visiting a friend."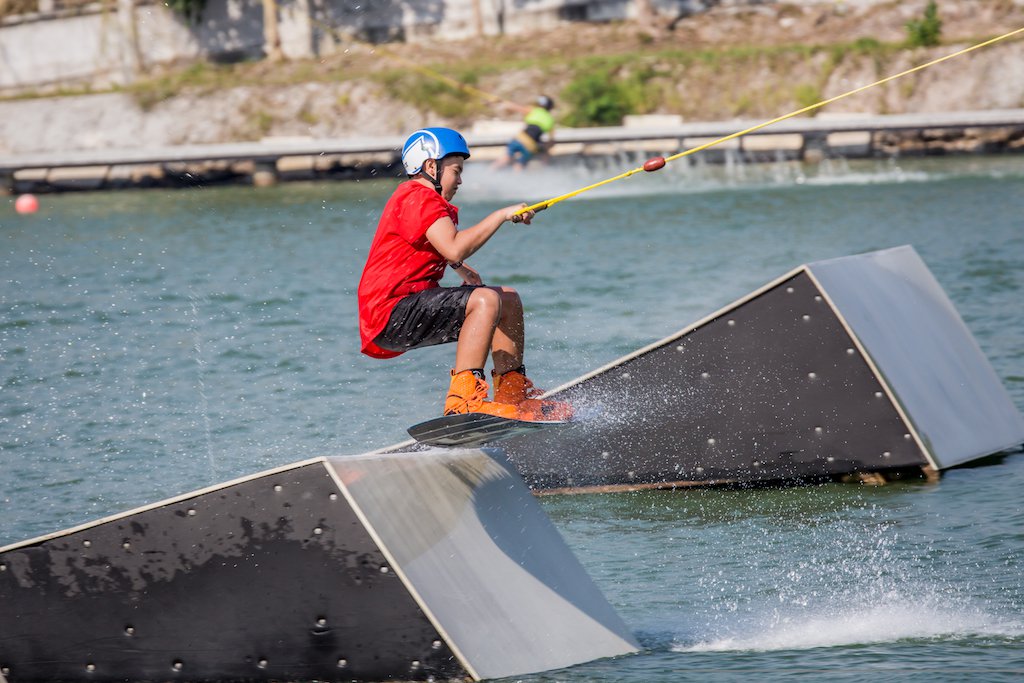 What makes your parks stand out?
We have three parks, two in Bangkok and this one. Our Lamluka park has hosted two world championships and three Asian championships. It's also been ranked in the top five parks in the world. At the time we started, we were still riding a lot. Now there is a younger generation that is pushing the limits of the sport. Our motto is we're a park "by riders for riders." We are not just businessmen running a business. Many international visitors have commented that coming here feels like they are visiting a friend.
How does the Pattaya branch compare to Lamluka?
Lamluka was completely man-made, whereas with this one someone had already dug the land up to sell the soil. Lamluka is about 2.5 meters in depth, but this one is far deeper. It uses the same cable system and there isn't that much difference in the facilities. We have a lot more land at Lamluka so we are able to hold festivals there, like Kolour in the Park, which welcomes up to 4,000 people.
What kind of crowd comes here?
We get a lot of expat kids and international tourists. The Thai crowd is mostly Pattaya first-jobbers. We also get a lot of professionals coming through. European winter is our high season. Germany alone has about 70 wake parks. In winter, none of them are open. So all the riders in Europe want to come to Asia. There are two choices: Thailand or the Philippines. We get a lot of Koreans for the same reason. Some riders with sponsors might come here for two weeks or a few months.
What's your advice for first-time wakeboarders?
Wakeboarding is an extreme sport that when you crash, you can laugh about it. It's not like skateboarding, where you you might injure yourself. We have basic boards, life jackets and helmets, which everyone must wear. Actually we have a lot of schools bring their students through here. Teachers want the kids to fall, you know. That's the way to learn. We want our Pattaya park to be friendly for kids eight years and up, we don't want any injuries. We have a few young riders with a lot of potential, who should appear at the international level in the coming years.
What's the hardest part about wakeboarding?
The most difficult thing is the start. It's like riding a bicycle. On the main lake, everyone is going at 30km/hour and that can kind of jolt you at the start if you're not used to it. We also have a beginner lake where we can adjust the speed. Here, we guarantee that you will be standing up within an hour. Some people don't want to fall in front of everyone, so this lake is good for them. But others just want to skip straight to the main lake, which caters to beginners, intermediate riders and pros alike. It's a good workout! If you are a beginner I don't think you can do two or three rounds before your arms are too sore. You will feel it in your arms, upper body and core within half an hour, for sure.
What's coming up for you guys?
We're very happy to say our wake park in Rangsit, Bangkok, will host the 2020 IWWF World Cable Wakeboard Championships in September 2020!
What do you love about Pattaya?
I have to admit I'm not a Pattaya local; I only know it as an outsider. When we started this park, I thought of the city only as a tourist attraction. I had never stayed here until six years ago. But it's a good place, only 1.5 hours from Bangkok. You can escape everything. There are good restaurants and beaches. For me, the beaches are not actually the main attraction; it's the restaurants next to the beach. You get that feeling of going to the beach without actually swimming in the beach. The city is now welcoming a lot more younger tourists.
What are some of you favourite places in Pattaya?
Mainly I go to Glass House, a good restaurant by the beach. The Thai food is good, but mainly I like that you can feel the beach, the sand in your feet. You need to get there before sunset. Every time I come to Pattaya I drive past Cartoon Network Amazone and Ramayana Park and think 'I really want to go there.' They look cool. It's hard, though, because I mostly just work and then have dinner! I come to Pattaya about twice a month for a few days each time.
Join the Fun
Thai Wake Park Pattaya, 58/3 Chaiyapon Withi Soi 25, Nong Pla Lai, Bang Lamung, Chon Buri. 8.9 km from Siam@Siam Pattaya.
How to get there: Located about 15 minutes' drive from Pattaya city centre, the park is easily reached by taxi. Use the Grab app or hail a passing cab. Expect a fare of around THB300 for the former.
Price: Entry starts at THB850 for two hours of riding
The extra good news for Siam@Siam Design Hotel Pattaya guests is they've got you covered with member rates (up to 50% off entry). Just ask our front desk for the details.