Tropic City is Bangkok's colourful cocktail bar dedicated to all things tropical. Since opening in 2017, the bar has picked up a swag of awards around the region, perhaps most notably placing No. 31 in the Asia's 50 Best Bar list of 2019. United by a love of rum and fresh tropical ingredients (not to mention Hawaiian shirts), Tropic City's Swedish founders, Sebastian De La Cruz and Philip Stefanescu, are currently responsible for some of the capital's most creative drinks. Besides visiting their vibrant address on hip and happening Charoenkrung Road, you can find their exclusive concoctions on the menu at Siam@Siam Design Hotels in Bangkok and Pattaya. S@S Bangkok sat down with Sebastian and Philip to hear their story.
How did two Swedes end up in Thailand?
Sebastian: We've known each other since we were in Stockholm, Sweden. I got an offer to come out here and they asked me to bring someone with me so I asked Philip to join.
Philip: We moved over here only a month apart to work with Sapparot Group who, at that time, ran Rocket Cafe, Lady Brett and U.N.C.L.E, the cocktail bar which we helped to open.
So how did Tropic City start?
Seb: We were just like most bartenders and chefs who hoped to have our own bar or restaurant. We saw people our own age starting to open bars. We felt like OK, that's the next step. For me, growing up in Sweden, you're always dreaming about the tropics as well. It's very cold in winter over there, while in the tropics everything is colourful. It's always been something in the back of my mind.
Philip: Doing something for ourselves, it had to be something that both of us believed in. I can say we really wanted this style of bar: a little bit of white, lots of colours, pastels. Also, for as long as I've known Seb he has always worn old-school tiki shirts! And we like rum. It is a combination that no one has done in Thailand before.
On their Drink Philosophy
Tell us about your drinks.
Philip: We try to change the menu every 3-4 months. So ahead of that, we're also trying out ingredients and techniques to see what works. In the end, if the drink is good, it can be super-exciting. Our style is kind of Swedish simplicity with a tropical feel. We don't have the most expensive equipment in town. But if there is something interesting that we think tastes amazing, then we will put it on the menu.
What the most important thing about your creations?
Sebastian: All of our drinks are rum-based while ingredients must be as fresh as possible. And for me, I feel like people always see pineapples or passion fruit are tropical fruits but forget that they are specifically Thai fruits as well.
Philip: And they're the best in the world! So why wouldn't we use them?
Why did you choose Charoenkrung?
Sebastian: We didn't know so much about the area to be honest. We knew the 80/20 crowd and they are really like-minded people so we had a feeling that Tropic City could happen here. From walking around I got this feeling that it's almost like in Europe as there are no high-rise buildings around. I miss that feeling of being able to walk on the streets as there are so few sidewalks here. Charoenkrung is full of culture that you can feel, unlike other neighbourhoods. If you walk from here to Chinatown, it's beautiful. Every day, I discover something new.
Philip: The heritage buildings here really catch your eye. When we were building the bar, we would sit across the street and people would always come and sit down next to us to have a little chat. Everyone was very welcoming.
What's the charm of Bangkok?
Sebastian: I came here from Sweden where everything kind of follows the rules. So restrictive. It takes time to understand the mentality here but as soon as you accept it, the organised chaos is really charming.
Philip: I like the dynamic in Bangkok. I love everything. When you go down a soi, you might see beautiful big houses, but then the next soi is completely different. You will see people of all walks buying the same food at the same shops. You know it's a really integrated society. You see so many different aspects of life side by side every day.
"Our style is kind of Swedish simplicity with a tropical feel."
– Philip Stefanescu, co-founder of Tropic City
On creating the cocktails for Siam@Siam Design Hotels
How would you describe the S@S cocktail menu?
Philip: Very focused on the ingredients with plenty of tropical touches. We wanted to make sure everything is homemade. If you buy a bottle of syrup from a big company, you can imagine how bad it is for the environment to have to fly it across the world to use. In the end, it's always better when the whole menu is made in-house.
What are your favourite drinks from the menu?
Sebastian: I really like PB & Thai. The inspiration was a peanut butter and jelly sandwich. It's kind of a take on the Mai Tai, which typically combines rum with orgeat syrup [made with almond] and lime. Instead of orgeat syrup, we use peanut syrup and Crème De Mure as the jam part. These two elements work really well together. The drink comes garnished with peanut crumble and a lime wheel.
Philip: I really like the drink called the Bongo Dram. It's almost like a negroni. We fat wash the rum with coconut and add a little bit of Campari, Vermouth and Pimento Dram, a spicy Jamaican liqueur. It's very interesting; a tropical take on the negroni, really.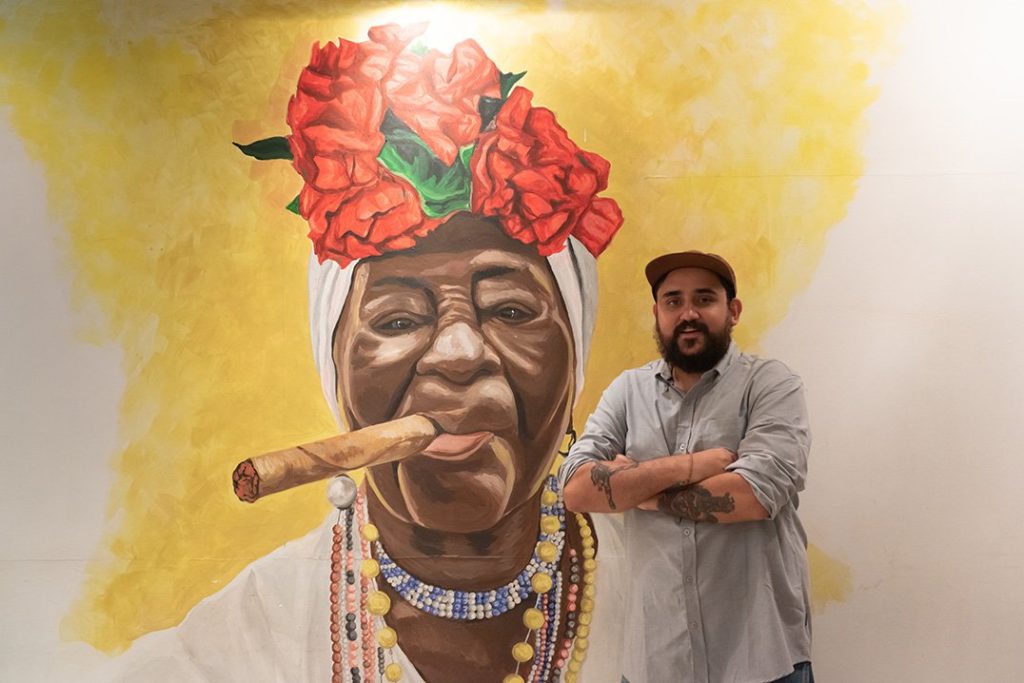 On their favourite places to eat and drink in Bangkok
Sebastian: "I always bring people to Daimasu, a Japanese joint in the Silom-Surawong area. It's casual but super-good quality. I like their tuna sashimi and their beef. The place is very interactive. It's never a boring dinner. For drinks, I love Ku Bar [the Old Town cocktail bar renowned for its inventive use of local market ingredients], and I also really like Vesper and Bamboo Bar.
Philip: "I really like this Laotian food place called Funky Lam. The food's spicy for me. I like their jerk beef and their grilled whole-chicken is one of the best I ever had. They also have these seaweed sheets that are super-good as well. As for cocktail bars, Liberation has all these super-expensive toys to play around with. The team uses many different techniques and they are some of the most creative people in Bangkok that I've met."
Tropic City
672/65 Charoenkrung Soi 28
Tel: +6683-838-2750
Open Tue-Sat 7pm-2am, Sun 7pm-midnight